Your main affiliate link:
https://hop.clickbank.net/?affiliate=XXX&vendor=tedsplans
We've included several alternative landing pages for affiliates. These include PPC/AD network friendly pages as well as sub-niche targeting.
If you're running these links on Facebook, please ONLY use the Facebook friendly landers
TIP: The main aff link is our best converting, highest EPC sales page - so you should use this in most circumstance.
You can add a "&tid=anytracking" parameter at the end of aff links to track your links from the CB dashboard.
Replace XXXXX with your actual Clickbank ID!
Eg: If your Clickbank ID is woodprofit, your affiliate link will be:
https://hop.clickbank.net/?affiliate=woodprofit&vendor=tedsplans
Main Aff Link (Highest Converting):
https://hop.clickbank.net/?affiliate=XXXXX&vendor=tedsplans
Video With Text Landing Page

https://hop.clickbank.net/?affiliate=XXXXX&vendor=tedsplans&cbpage=vt
https://hop.clickbank.net/?affiliate=XXXXX&vendor=tedsplans&cbpage=textonly
(FACEBOOK & PPC Friendly): No Exit Pop + No Video Autoplay:
https://diyhomewoodplans.com/offer/?a=XXXXX&tid=track
(FB Friendly) 50 Free Plans Landing Page - Great for giveaways:
(This is a lead magnet lander. We'll presell Tedswoodworking via a email sequence over many weeks. Your affiliate cookie will still be set and you'll get commissions for ALL future sales. Just send traffic and we'll do the rest!)
https://diyhomewoodplans.com/free-plans/?a=XXXXX&tid=track
Art of Woodworking Book Download (For your own autoresponder):
Use this thank you page if you're collecting emails and using your own autoresponder to promote TedsWoodworking
https://hop.clickbank.net/?affiliate=XXXXX&vendor=tedsplans&pid=artw
Free Plans Thank You Page (For your own autoresponder):
Use this thank you page if you're sending plans and using your own autoresponder

https://hop.clickbank.net/?affiliate=XXXXX&vendor=tedsplans&pid=plandl
To Direct Order Page: (if you want to try using your own salespage)

https://hop.clickbank.net/?affiliate=XXXXX&vendor=tedsplans&pid=orderp
Landers for Free Plans and Reports:

(great for content if you're using your own autoresponder)

2 in 1 Folding Picnic Table Bench Plan:
http://XXXXX.tedsplans.hop.clickbank.net/?pid=pictable
Modern Table Plan:
http://XXXXX.tedsplans.hop.clickbank.net/?pid=modern
Traditional Bookcase Plan:
http://XXXXX.tedsplans.hop.clickbank.net/?pid=bookcase
Workspace Plans
http://XXXXX.tedsplans.hop.clickbank.net/?pid=workspac
Guide To 13 Wood Joinery Types:
http://XXXXX.tedsplans.hop.clickbank.net/?pid=joinery
Here are some product images and banners you can use.
You can swipe images from our VSL page as well as our text page as well
TIP: If you're using Google PPC, please do not link the ad directly to your affiliate link. Google HATES affiliates that does that and punishes you with low quality scores.
Instead, direct it to your own landing/bridge page. The best type of bridge page is a unique high quality review article. This presells your visitor. If you need help creating landing pages easily, check out LeadPages
Demographics & Facebook ADs
Before you start, take a look at an official Clickbank's case study on TedsWoodworking.
You'll learn step by step how to make your first sale with FB Ads.
Clickbank X TedsWoodworking
Facebook ADs Case Study
Setup your campaign to target this group: Age: 30 to 65, Male.
Target countries in this order:  1. United States (most popular), 2. United Kingdom,  3. Canada , 4. Australia
Target interests such as: Woodworking, DIY, Home and Garden, Survival, Off Grid, Sheds, Home Improvement, Green Energy, Alternative Power, Tools, Routers / Workbench, Carpentry Cabinet making, Craftsman, Wood craving, etc
In general, our target market cross sells very well with the green energy, alternative energy, survival/preppers, conservatives market
For a more complete and detailed guide on Facebook targeting, strategies, placements and more, please read the guide below:
You can write your own solo email or check out the sample emails below.
If you don't have your mailing list, it's time to build one right now. The saying that "The Money Is In The List!" will justify itself time and time again once you build your own subscriber list and send out those emails.
First you need an autoresponder service. I recommend a high quality autoresponder that we use:  Click Here To Visit GetResponse
NOTE: Sending at least 4 emails in a sequence will result in the most sales VS just a single mailer. 
WARNING: You should NOT send unsolicited emails and must comply with CAN-SPAM. Spammers will be reported to Clickbank and banned from promoting our product.
Click on each email template toggle box below to open the template:
EMAIL TEMPLATE #1
+
Subject: Grab 16,000 woodworking plans here (Open Now)
Subject: Get instant access to 16,000 plans inside
Subjects: 16,000 woodworking projects for a limited time only...
body:
Hey [firstname]
Here is something you'll absolutely love if you're a woodworker.
Get access to 16,000 woodworking plans >>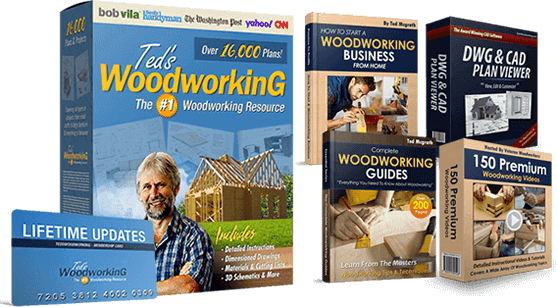 You can get instant access to over *16,000* woodworking projects in the next 5 minutes or less..
You got to check out Ted's video now
Ted has spent years putting together "Earth's largest collection of woodworking plans!"
I'm talking about 16,000  "done-for-you"  plans with STEP-BY- STEP instructions, photos and  diagrams to make every project laughably easy...
And the best part is, it doesn't matter if you don't have a large workshop or expensive tools!
Get access to TedsWoodworking now >>
You can download the entire "TedsWoodworking" 16,000 plans package and all the bonuses right now. Plus you'll get the option of getting everything on DVDs.
You can be going through all the plans in just a few minutes from now
Experience the joy.. the satisfaction, to know with 100% certainty that your project will turn out exactly the way you want it to look.
It's an incredible feeling…
...being able to wake up on a Saturday morning and get to work on your project with absolute confidence it will turn out right.
With no strange gut feeling you'll make a mistake or you won't finish what you start...
That's the way woodworking is supposed to be.
Click here to take a look at his plans
THIS IS A TIME-LIMITED OFFER
Ted is running a time limited "launch discount" and the complete package of plans is 77% off the regular price
This special launch offer will close soon and you won't be able to get in at this price after that even if you want to.
So grab your discount while it lasts...
Don't miss out on this.
Have a great day and talk soon.
Your Name
P.S: Ted's collection of plans are some of the best I've seen. If you're a woodworker, you really don't want miss out on this great deal. 
EMAIL TEMPLATE #3
+
Subject: your questions answered
Subject: here are the questions you asked...
Hi [[firstname]]
Since I've emailed you about TedsWoodworking, I've been thrilled with the incredibly positive response it's received.
Hundreds of woodworkers have already joined and are
If you're ready to join, just head to the course sign up page: TedsWoodworking Package
Imagine building projects like these: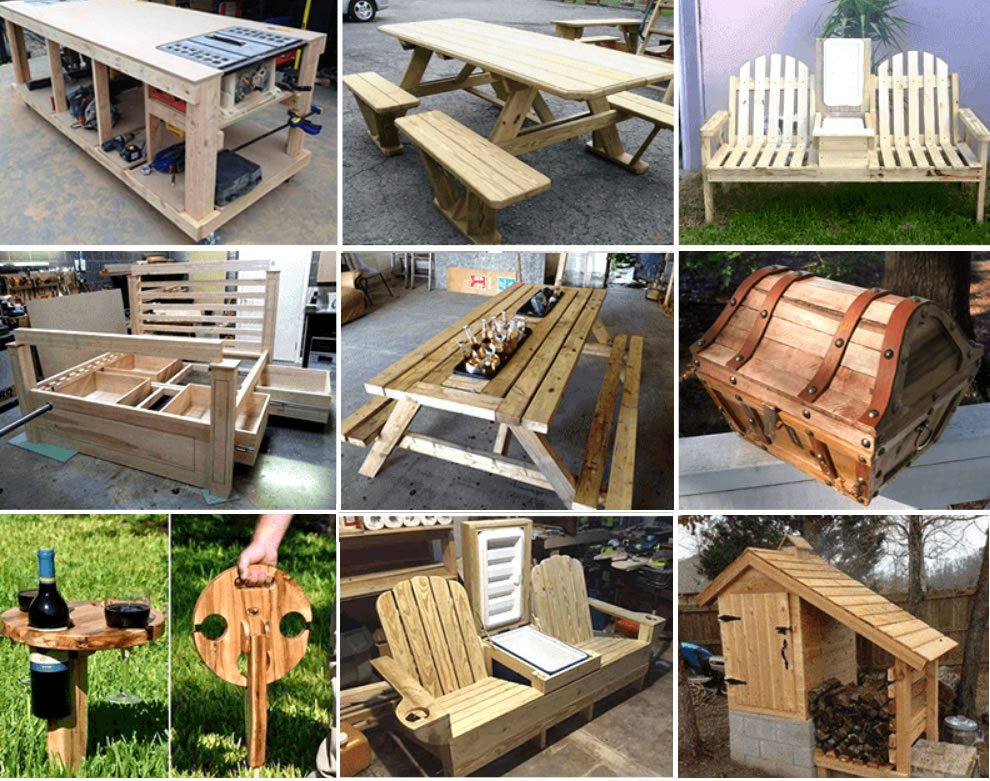 Isn't it just amazing?
In addition to all the kind words and excitement, I've also received a lot of questions about the course. So I wanted to take this opportunity to answer some of them here:
=======
How do i get access to the plans? Is it something sent to my house?
You'll get instant access to the package. It's kind of a membership site, but don't worry about a monthly membership fee or anything like that.
You will pay only once and that's all you pay. There's no additional charges, no hidden charges, no nothing like that.
For a small fee I will also ship worldwide, the DVDs of all the plans and bonuses..
Are there a lot of beginner-friendly plans in this?
YES. Most of these plans are beginner plans. With the rest being intermediate and some being expert plans.
But keep in mind, given the quality of these plans, you might surprise yourself with your ability to quickly expand the projects you can do.
How long do I have access to the plans?
You have LIFETIME access to all the plans in the members area. Your membership never expires and you can login anytime to download more plans. Whats more, I draft new plans every month so you'll always have new ideas, new projects to make
Why a one-time fee? Won't you lose money long term?
Not really. It is a digital product after all. I suppose if everyone were to get this deal then yeah, eventually the time I spend every month creating the 5 new plans wouldn't earn me an income. Which is why I am taking this page down soon!
I can't afford tools or materials to build my project
If that's the case… this is perfect for you… because you will learn exactly what you need to build a project you're interested in. So there's no wasting your money on tools you won't use. Just buy exactly what I tell you and follow my instructions. Then move onto the next and buy the new tools you need (if any)… Simple and cost effective!
Simply get what you need for the projects you want to build at anytime. I'll also show you ways to get lumber and materials for far less than what you pay retail.
I don't have any space for a workshop.
Fact is, you don't need a large space or expensive tools to build many of the projects. I started off with a 7x8 size workshop and many of my best pieces came from that shop.
I've included many small mobile workbenches you can build right away as well. Many of my plans do not require professional machinery or even a router.
Can I sell the projects I make with your plans?
Absolutely. You can sell the projects you build with our plans. Many of my customers went on to make a sizable side income by selling projects they make.
===========
I hope this answers some of your questions. (And, of course, you can find more answers and full course details on the sign-up page.)
By now, I hope you're also starting to see that, with the right strategy, you can create an organized shop, develop a smooth workflow, and do more with every inch of your space – no matter how small it is.
So join now and get access to 16,000 plans
I can't wait to see what you'll build...
See you inside!
– Name
P.S. Don't forget – the launch offer is closing shortly, so there are only a few more days to sign up.
EMAIL TEMPLATE #5
+
Subject: it might be too late... (open now)
Subject: open this...
Subject: ending in 24 hours...
body:
Hey [[firstname]]
This is important:
Have you secured TedsWoodworking yet?
If not, go immediately to do so...
Click here to get access right now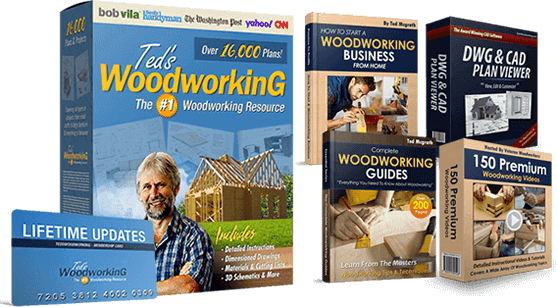 PRICE IS GOING UP IN 24 HOURS
I've been emailing you about TedsWoodworking on the past few days but the time is almost up to secure your launch price.
Ted is about to remove the special offer shortly and this is your last chance to secure this offer.
As I've said, this is the *EASIEST* way to start your woodworking projects - and it's still at a ridiculous low price:
So join now and get access to 16,000 plans
If you're just starting out or you're a seasoned carpenter, you'll find out just how simple it is to build projects using TedsWoodworking step-by-step plans.
With over 16,000 plans, it covers a ton of projects. Check it out and see why I endorse it so much.
You'll love it.
So hurry and claim your copy...before this offer ends
Take care and talk soon.
Your Name Here
P.S: This is your last chance to get it at the launch price.
EMAIL TEMPLATE #2
+
Subject: How to "cheat" at woodworking & get away with it...

What if I told you, you could "cheat" at woodworking & get away with it?
Ted Mcgrath has put up his secret archive of over 16,000 plans which you've got to see...
Get Instant Access To The World's Largest Collection of Plans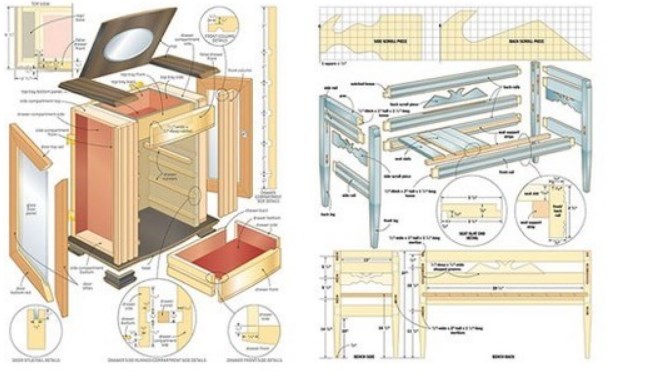 Build ANY project you desire... effortlessly and in the shortest time.
The best part is...you DON'T need a huge workshop or years of boring training to get started.
Take a look at Ted's entire collection of 16,000 plans here
Just think about all the projects you can build right away... from small crafts, outdoor projects to large furniture around the house.
You'll get your project done cheaper, faster, using these step-by-step, hold you by the hand plans and diagrams
Get the "cheat list" to build the project of your dreams
With over 16,000 plans, you'll never run out of ideas or projects you can build. It's a enviable position most woodworkers will NEVER experience.
So here's the video. Watch it to the end to get access
Enjoy,
- Name
P.S: Seriously. Check out Ted's plans. It is a game-changer for anyone starting on woodworking projects...
EMAIL TEMPLATE #4
+
Subject: Get 50 FREE Woodworking Plans
(use this affiliate link in this email for the free plans lander: https://hop.clickbank.net/?affiliate=XXXXX&vendor=tedsplans&cbpage=optin)
Real quick, Ted is giving 50 of his woodworking plans absolutely FREE.
There is no catch.
You may think he's crazy, but it is his way get a review copy on your hands, so when you see how awesome it is, it will get you excited to purchase it.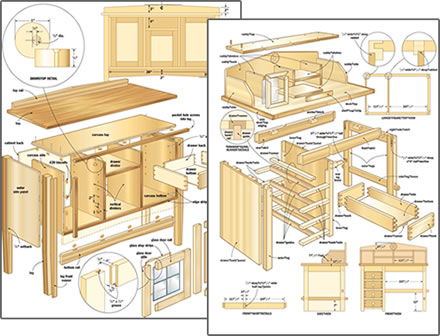 You'll get:
Access to 50 step-by-step woodworking plans
"The Art of Woodworking" - A 440 page guide book
Plus tons of tips, techniques, videos and guides for woodworkers
Simply click on the link below to get started!
Get access to 50 free plans now
To your woodworking success,
Name
Download "Mega Autoresponder Templates"
Download our mega autoresponder template for 25 more affiliate emails across 8 different products!
The total potential commission for the entire sequence is over $530!
It includes more sequences, tips, landing page samples plus other new offers to promote. (including new unlisted offers!)
Grab this if you've your own list and watch your sales skyrocket!
Use this direct affiliate link if you wish to send traffic directly to the order page
Direct Link: (replace YourClickbankID with your actual ID)
http://YourClickbankID.tedsplans.hop.clickbank.net/?pid=orderp&tid=tracking
You can use download and use these videos on your blog or social media sites to promote your affiliate link or site
Product reviews and pre-selling articles are one of the most powerful ways to "warm up" your visitors before getting them into buying mood.
Click here to see a sample review article
(PLEASE REWRITE THIS for uniqueness. Google won't rank it if it is not unique)
Here are some great tips to get free traffic to your affiliate link. It works even if you don't have a website!
1. Modify your email signature to include your affiliate link
By adding your affiliate link to your email signature, every time you send an email to someone, you are potentially making a sale with us and making money!
In a gmail account, you would simply go to the "settings" tab in the upper right hand corner of your gmail account, then scroll down to the very bottom where it says signature. Here you would enter your affiliate link:
<a href=http://YourClickbankID.tedsplans.hop.clickbank.net>Get instant access to 16,000 woodworking plans!</a>
Just replace YourClickbankID with your ClickBank ID.
If you have another type of email account, simply google how to add a signature to whatever type of email account you have.
2. Join Facebook Groups or Create Your Own
Facebook has one of the largest community of woodworking enthusiasts. You can create your own group and post interesting woodworking projects and articles on your page.
This is one of the best ways to generate some quick money!
Join popular Facebook groups where woodworkers hang out. Contribute with ideas, pose answers to questions and be an active member.
Do NOT simply spam your affiliate link or you'll get booted out quickly! Engage the group first and offer plans (your affiliate link) to members who express their interest.
If you share quality advice and are generous, you increase your chances of being remembered. This is also an amazing way to establish yourself as an expert or go-to person in your field.
Either broadcast your affiliate link with some text talking about our program to your current followers, or create a new twitter account, and start following as many people as you can who are interested in "woodworking".
Once you have enough people following you back, you can tweets promoting our program and earn money!
Did you know that YouTube is the second most popular search engine in the world?
It is simple to make money and generate free traffic to our offer using YouTube. All you need to do is create some review videos that review the offer, and talk about how you have had success with the program. Use keywords in your video title that are related to our program to help rank. Make sure to include your affiliate link inside the videos!
Another thing you can do, is simply comment on popular woodworking videos and include your affiliate link in the comment section of the videos. Do remember NOT to spam or you might be banned
Use pictures and images you create, generate free traffic for you, that you can funnel into your affiliate link!
Create an instagram or Pintrest page, and start uploading interesting pictures or images that you own. It is important to try to build a "following".
Pick a niche relating to woodworking - eg: DIY Furniture. Then post related pictures, the more the better. Eventually you will get followers, which will in turn visit your links you post in your account!
Doing a press release can generate an enormous amount of traffic. Most people don't know there are services that offer it for free!
You can either write your own press release about our program, or go to websites like HireWriters.com or TextBroker.com to get a press release created for you. Here are some free press release submission sites:
Free-Press-Release.com
Free-Press-Box.com
Free-Press-Index.com
NewswireToday.com
1888PressRelease.com
Start a blog or review site that is related to woodworking.
IMPORTANT: Write unique, interesting and informative articles. Google ranks unique sites very well!
If you're writing a review article, ensure it is original and show the pros and cons. Ultimately tell the visitors why you think they should choose our program.  Over time google will index your blog and you will get more and more natural traffic.
Copyright TedsWoodworking.com All Rights Reserved.